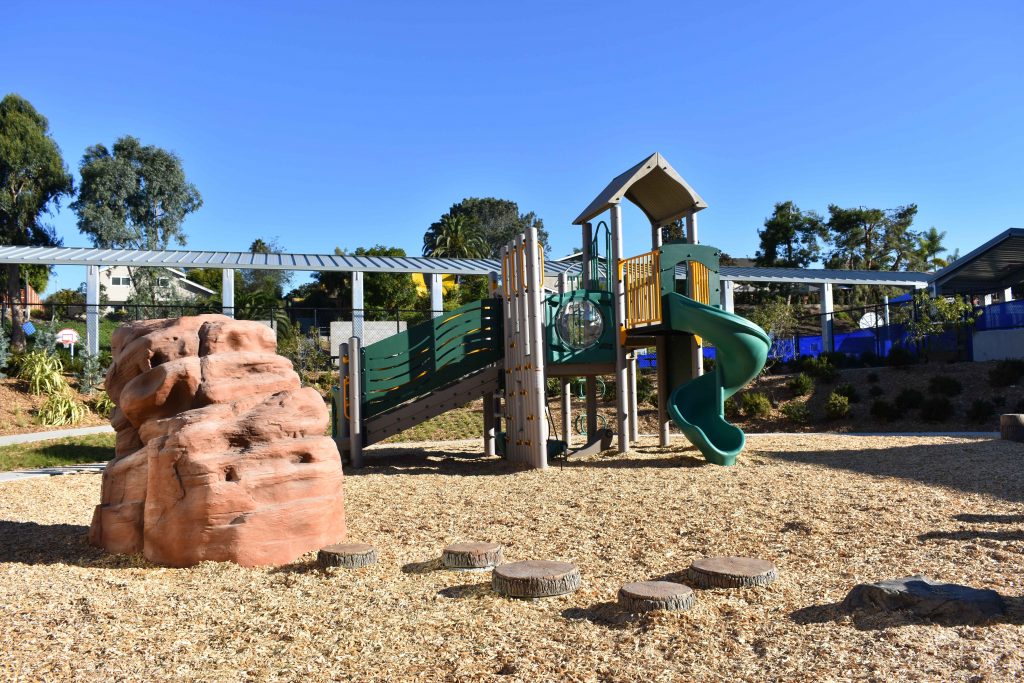 Skyline Elementary – Kindergarten
The new 75,239-square-foot Skyline Elementary School will feature a two-story administration and main classroom building with 27 classrooms, a media center, technology lab, multi-purpose building, STREAM building and a four-classroom kindergarten building.
In addition innovative & creative playgrounds to include Kindergarten, Grades 1-3 & Grades 4-6 will challenge children for years to come.
Completed August, 2018
ADDRESS:
Skyline Elementary – Kindergarten
606 Lomas Santa Fe Drive
Solana Beach, CA 92075
END OWNER:
Skyline Elementary
DESIGNER:
Recreation Brands of Southern California
PLAYGROUND EQUIPMENT:
Big Toys
SURFACING:
Geotextile Cloth
PROJECT CATEGORY
School, Playground
COMPLETION DATE:
TBA
Big Toys Hickory includes the following elevated activities:
Bubble Panel

Climbing Panels

Climbing Wall

Loop Climber

Rope Ladder

Spiral Slide

Wacky Wood Climber
Big Toys Hickory includes the following ground level activities:
Labyrinth Panel / Experimenting

PlayShell Double Seats / Gathering
NatureROCKS
4' Log Tunnel

Tree Stumps (Set of 3)

8' Fallen Tree Balance Beam

Stepping Bounders (Set of 3)

NatureRocks™ climbing boulders provide a dynamic and authentic climbing experience. Hand-painted rust to create a realistic sandstone look. Constructed of glass fiber reinforced concrete for durability & longevity.

Medium Boulder: 5'H x 6.5'L x 4.5'W above finished safety surface (4′ actual height). 2350 lbs
Elephant Play Spinneround Series is a design built to provide a fun challenge that keeps children moving, while stimulating a positive child's development. Kids can enjoy the Spinneround Series by actually exercising and stimulate the body to accelerate the movement of the equipment
Play & Park Structures' Igloo Net is a multi-faceted climber that encourages route planning, problem solving, and offers different climbing experiences each time it is used.
Provides higher levels of physical challenges

Engages upper and lower core muscle groups

Meets ASTM, CPSC, CSA, and EN standards
Big Toys playground surfers will appreciate the ample size and non-slip surface of the Sport Board. With room for four, riders will enjoy challenging each other to see who can stay on the longest.
Big Toys Peak Adventure where children can climb, reach, and socialize as they create many ways to navigate through this architectural play system. Built with urban-tough 5" uprights for heft, longevity, and sustainability and topped with attractive vandal resistant rubber covers and caps.
The Rockies Playground
Add challenge and adventure to your play space with our nature inspired boulders linked by nets and ropes. Spider Mountain includes one Medium Granite Boulder and a Log Post connected by a Spider Web Net for even more creative play as children traverse across the spider net. Suitable for children ages 5-12.
The Rockies include two Medium Sandstone Boulders connected with Balance Ropes. Children will use large motor skills as they climb on the boulder while also exercising balance as they traverse across the Balance Ropes as they interact with their peers. Suitable for children ages 5-12.